Home

What Exactly Is It?

Why Do You Need It?

How Does It Work?

Requirements

Features


Testimonials

Online Demonstration


Try It Free

Keep It Free

Pricing

Sign Up


Brochure

About Us

Contact Us

Site Map

Employee Intranet

Administration Login
ClubWizardTM is a complete website and club management solution.
Create and manage your website:
Quickly and easily create a fully customized website for your club
No need for any technical skills or special software
Website features includes:

Newsletter with automatic archival of past issues
Password protected member area
Password protected, searchable, online membership directory that allows members to update their own contact information

Share the workload: allow any authorized person to update or add items to the website
Grow your site to any size, in any way that you wish
Manage Your Club:
Manage your Club roster and membership information
Manage and track club-specific information such as current, past and future officers, committees, and much more
Manage and track your attendance
Supplement your fundraisers
Simple to Update Your Site and Keep It Current
ClubWizardTM  makes updating and managing your site quick and simple.  Since the Web Manager requires no special technical skills, no programming experience, and no special software, you can authorize any interested members of your Club to make updates to your site.  See the requirements .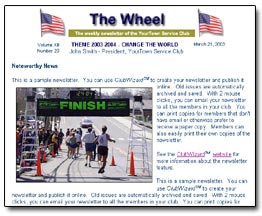 Cutomized Look and Feel For Your Club
Although ClubWizardTM sites may use some of the same features, every website is given a customized look and feel.  The site colors, logos and other elements will be customized for your club.  For example, the Newsletter will match your existing Newsletter.  (If you don't have a Newsletter, we'll help you create one.)